A n t o n D i a b e l l i: W o r k s f o r F l u t e a n d G u i t a r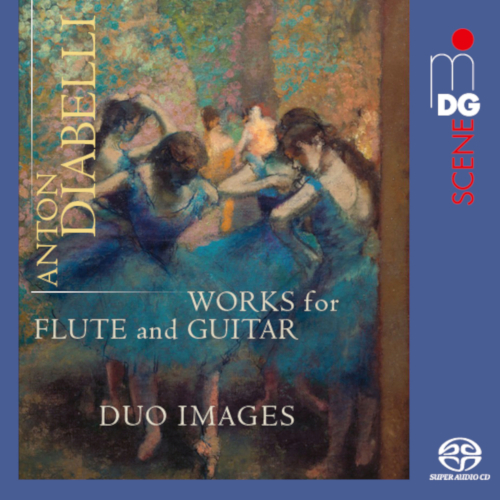 A. Diabelli: Works for Flute and Guitar
more information
MDG 903 2215-6
Ouverture "The Barber of Seville"Opera by G. Rossini Grande Sérénade op. 67 Duo D-Dur Grande Sérénade sentimentale op. 99 Pot-Pourri from Beethoven's best loved works No. 1 Ouverture "The Thieving Magpie"Opera by G. Rossini
Helen Dabringhaus, Flute
Negin Habibi
, Guitar
Reviews
Michael Kube wrote this review for
"Fono Forum"
.
You can read a good review from Klassik heute
here
.
The magazine
Stereoplay
features the SACD on it´s Cover CD of issue 11/2021.
In France
France Musique
presented the CD on the radio.
Another review from France was published in
OPUS Haute Definition
.

"...the result is truly inspiring, carried by the virtuosity of Helen Dabringhaus. An SACD that you should not miss out on."
(OPUS Haute Definition)




"It is remarkable how Diabelli manages to capture the effervescent energy of Rossini's opera orchestra for the duo instrumentation of flute and guitar, and with what brilliance the Duo Images shapes this sparkling sound world."
(Klassik heute)




"With this album, Helen Dabringhaus (flute) and Negin Habibi (guitar) open up new perspectives on the musical panorama of Beethoven's time: fun, entertaining and masterful."
(Fono Forum)




"...very well played by the Duo Images (Helen Dabringhaus flute and Negin Habibi guitar) - and here is the photo of the artists, as if served with a smile... - Yes, we are very happy to have discovered this recording with them."
(France Musique)
G. Rossini/ A. Diabelli: La gazza ladra - Ouverture




A. Diabelli: Pot-Pourri from Beethoven's best loved works




A. Diabelli: Grande Sérénade op. 67 - Marcia. Allegro con fuoco


Available in shops or
order here
!
Back to top
i / n
×
<
>