J o h a n n W i l h e l m W i l m s V o l . 1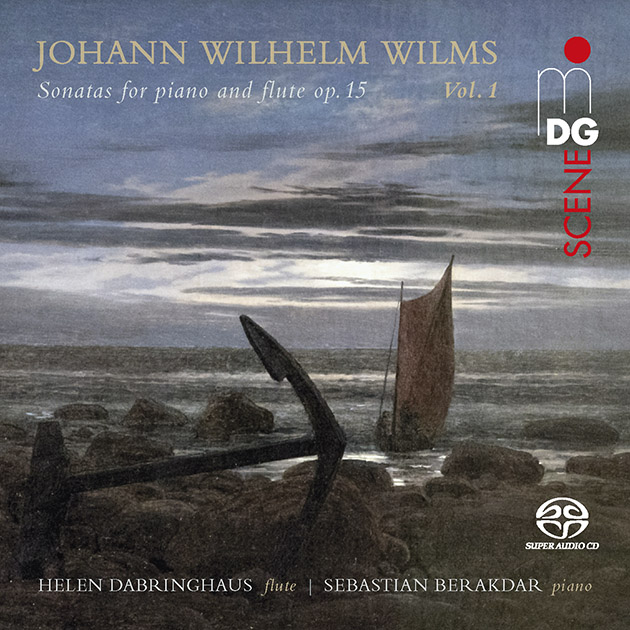 Johann Wilhelm Wilms Vol. 1
More information
MDG 903 2149-6 (Hybrid-SACD)
Sonata for Piano and Flute
op. 15,1 A major
Sonata for Piano and Flute
op. 15,2 F major
Sonata for Piano and Flute
op. 15,3 C major
Helen Dabringhaus, Flute
Sebastian Berakdar
, Piano
Reviews
"Explicit recommendation!": The SACD was awarded the Klassik Heute Empfehlung in August 2020! Read the review by Thomas Baack
here
.
"Superlatively performed classical frothiness.": Here you can find Dominy Clements review on
MusicWeb International
.
Click
here
for Holger Arnolds review in Fono Forum 09/2020.
"Superbly played in this premiere recording... this looks like the first volume of further Wilms recordings so watch this space if you are looking out for new classical frothiness."
(Dominy Clements – MusicWeb International)


"Pflichtkauf für Flötisten, schon wegen der wichtigen Erweiterung des klassischen Repertoires, aber auch wegen der vorbildlichen Interpretation. Liebhabern von fröhlicher, unproblematischer Klassik zur Aufheiterung des Gemüts dringend ans Herz gelegt."
(Klassik Heute Empfehlung)


"So zieht Sebastian Berakdar ungehindert alle Register perlender Klaviertechnik, während Helen Dabringhaus den ständigen Wechsel zwischen Solo- und Begleitpart souverän beherrscht. Neben feinem musikalischem Gespür kommt ihr dabei ihr schöner, schlanker und flexibler Ton zugute, der völlig frei von Anblasgeräuschen jeglicher Art ist und sich wunderbar mit dem warmen, runden Klang des Steinway Concert Grand Piano D aus dem Jahre 1901 mischt."
(Holger Arnold - Fono Forum 09/2020)


"Helen Dabringhaus und Sebastian Berakdar bringen die für diese Stücke unbedingt erforderliche kongeniale Leichtigkeit mit. Sie halten den Klang schlank und transparent, phrasieren ausnehmend elegant. Artikulationen sind fein abgestimmt. Motive werden auf dem inneren Höhepunkt zugeführt. Akzente kommen mit präzisem Timing."
(Klassik Heute Empfehlung)



​
Available in shops or
order here.
Back to top
i / n
×
<
>