J o h a n n W i l h e l m W i l m s V o l . 2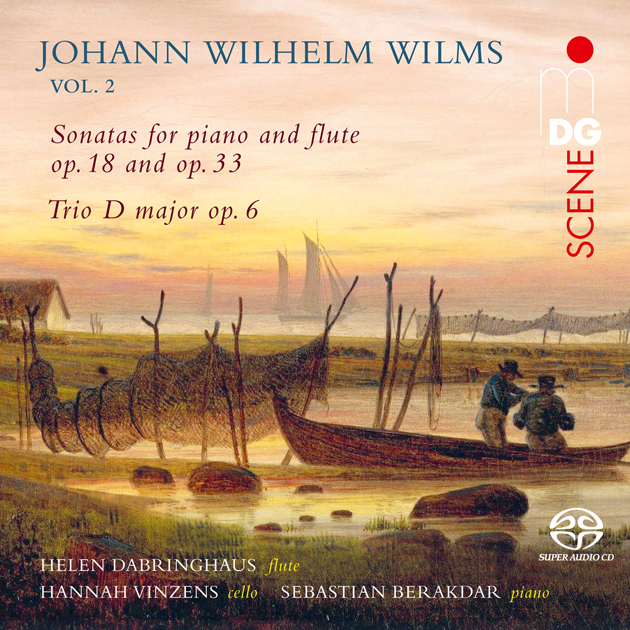 Johann Wilhelm Wilms Vol. 2
more information
MDG 903 2258-6 (Hybrid-SACD)
Sonata for piano and flute
op. 18,1 D major
Sonata for piano and flute
op. 18,2 G major
Sonata for piano and flute
op. 33 D major
Trio for flute, violoncello and piano
op. 6 D major
Helen Dabringhaus, flute
Sebastian Berakdar
, piano
Hannah Vinzens
, violoncello
Reviews
In December 2022, AUDIO magazine selects this "brilliant, quick-witted dialogue" as an AUDIOphile Pearl. There is also a KlangTipp AUDIO for the SACD.
Here
you will find the related reviews by Miquel Cabruja.
In the
nmz Tonträgerbilanz 2022 – the personal review of the year by the nmz record critics
, Mátyás Kiss
recommends
both Wilms SACDs.
"Freshness and elegance": Martin Demmler wrote a review on
KlassikFestival
.
"MAGNIFIQUE": Wilms is also listened to in France. On OPUS Haute Definition
you will find
a review by Jean-Jacques Millo.
"A very clear recommendation!": Like Vol. 1, the SACD was awarded the Klassik Heute recommendation in August 2022! Read the corresponding review by Thomas Baack
here
.
"MAGNIFIQUE"
(OPUS Haute Definition)


"Auch Vol. 2 ist klarer Pflichtkauf für Flötisten, einerseits wegen der wichtigen Erweiterung des klassischen Repertoires, andererseits wegen der vorbildlichen Interpretation. Liebhabern von fröhlicher, unproblematischer Klassik zur Aufheiterung des Gemüts dringend ans Herz gelegt. Das macht einfach gute Laune! Ganz klare Empfehlung!"
(Klassik Heute Empfehlung)


"Helen Dabringhaus, erst im vergangenen Jahr mit einem Opus Klassik ausgezeichnet, trifft mit ihrem brillanten, grazilen Spiel genau den Ton, den diese Musik braucht. Eine willkommene Bereicherung des Repertoires."
(KlassikFestival)


"Mit präzisem Ensemblespiel, Eleganz sowie klug gewählten Tempi und Akzenten rücken sie die Werke ins beste Licht."
(Klang Tipp AUDIO)


"Diese Musik atmet Frische und Eleganz, und in den ausdrucksstarken langsamen Sätzen klingt der Geist Beethovens deutlich an."
(KlassikFestival)


"... virtuos gestaltete fröhliche Kost der Beethoven-Zeit..."
(Klassik Heute Empfehlung)



Available in shops or
order here!
Back to top
i / n
×
<
>