D u o D a b r i n g h a u s - B e r a k d a r
Helen Dabringhaus, Flute
Sebastian Berakdar, Piano
The flutist Helen Dabringhaus and the pianist
Sebastian Berakdar
met at Hanover University of Music, Theatre and Media and formed the Duo Dabringhaus-Berakdar in 2015. Since then they have performed regularly in Germany.
Their joint debut CD
Rendezvous"
was received enthusiastically by critics, "the interpretations, designed with coherent intelligence to the last nuance, are fascinating" (Fono Forum 03/2018). "Heart-warming cantilenas [...] as well as breakneck virtuosity and everything in between, from enchantingly haunting pianissimo to piercing exclamation" (Flöte aktuell 04/2018) led in March 2018 to the award with the "Klassik Heute Empfehlung" for "this understanding and loving, conclusive and closed »Rendezvous« which, after unique interested listening has by no means exhausted itself" (Klassik Heute 18.03.2018).
The rediscovery of forgotten works is a special endeavour of the two young musicians. It is therefore not surprising that their first recording of Carl Frühling's Fantasie op. 55 received special attention: "How well the musicians harmonize can be heard in the wide cantilenas of the flute and the romantically influenced coloring of the piano: They present this effective piece with ease and natural expression." (Audio 05/2018)
The first recording of sonatas by the German-Dutch composer
Johann Wilhelm Wilms
(1772-1847) has also been praised by critics: "Must Have for flutists, if only because of the important expansion of the classical repertoire, but also because of the exemplary interpretation. Highly recommended to Lovers of cheerful, unconcerned classical music that cheers up your minds" (Klassik Heute Empfehlung).
Press:
"Dynamically differentiated and rhythmically pointed, the duo gave the three different movements a lot of brilliance and they harmonized in impressive unity. (...) The interpreters developed the drama of the wonderfully carried melancholy in solemn dignity."

(Lippische Landeszeitung)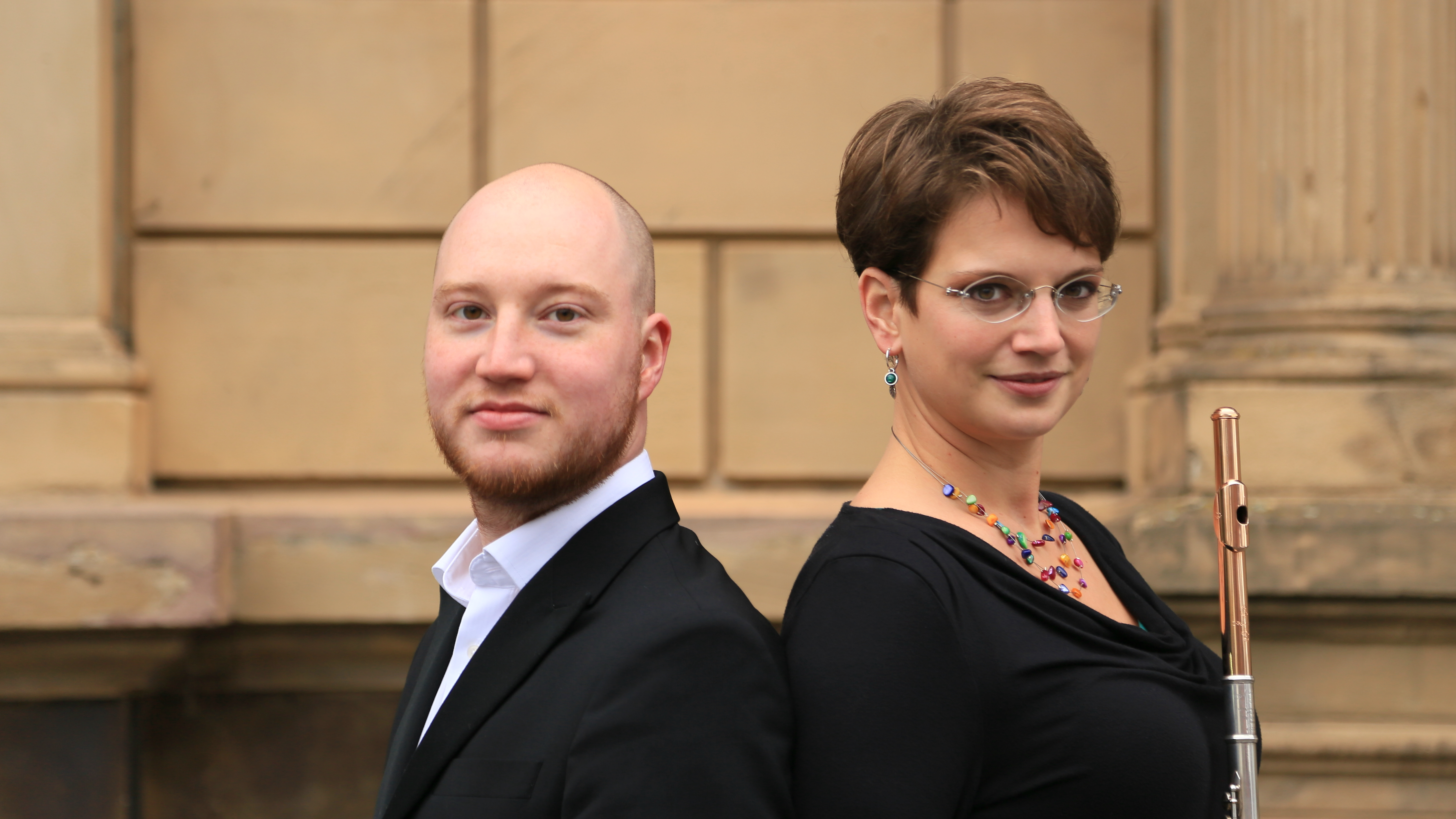 Programm Proposals:
Beethoven - Schubert - Wilms:
J. W. Wilms (1772-1847)
Sonata op. 18,1

L. v. Beethoven (1770-1827)/ Th. Böhm (1794-1881)
Adagio (2nd movement) from
piano concerto No. 1, op. 15

F. Schubert (1797-1828)
"Trockne Blumen" Introduction and Variations D 802 (op. Opst. 160)

----- Intermission -----
L. v. Beethoven (1770-1827)
Sonata for piano and horn F major op. 17

J. W. Wilms (1772-1847)
Sonata op.33


Music and Fairytales:
J. W. Wilms (1772-1847)
Sonata op. 15,2

C. Reinecke (1824-1910)
Sonata "Undine"; for Flute and piano op. 167

----- Intermission -----

A. Roussel (1869-1937)
Joueurs de flute

J. W. Wilms (1772-1847)
Sonata op. 18,1

A. Jolivet (1905-1974)
Chant de Linos pour flûte et piano


Wegweiser*:
J.S. Bach (1680-1750)
Sonata for flute and basso continuo E major BWV 1035

J. W. Wilms (1772-1847)
Trio op. 6 for flute, violoncello and piano

----- Intermission -----

L. v. Beethoven (1770-1827) )
Variations for cello and piano on
"Bei Männern, welche Liebe fühlen"
from Mozarts "The Magic Flute" WoO 46

C. M. v. Weber (1786-1826)
Trio in g minor, op. 63

*with Hannah Vinzens, violoncello

Back to top
i / n
×
<
>